| | |
| --- | --- |
| Posted on March 2, 2020 at 8:00 AM | |
Harrison P. Spader, Personal Space Invader
Words by Christianne Jones
Pictures by Cale Atkinson
We recently picked up this book in my classroom to read with the toddlers and infants I am teaching as a way to explore the concept of personal space. We have a few kids who are very in your face kind of kids, always want to be on teacher laps, clinging to other kids, sitting on other kids, etc. I was very pleased to find out that this book actually did a great job of helping the kids in my classroom really grasp the concept of personal space.
The story follows Harrison, a very fancy little hippo in a bowtie, a character design that I absolutely love by the way. Harrison is a fun-loving energetic kid who has no concept of personal space, always getting in his friends' faces, too close to teachers, librarians, and more. Harrison's dad decides to teach his son about "The Space Saver" an arm movement where you make a T shape and if you aren't touching anyone or anything then you and everyone around you have enough space. Does "The Space Saver" work for Harrison? You'll have to check out the book to find out! I will say that several of my kids have actually started to utilize the technique, and it has given some success to them. It is pretty cool to see a little two-year-old adopt something from a book in her everyday life.
Check out this book as soon as you get the chance!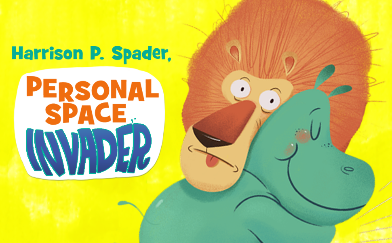 Categories: None