| | |
| --- | --- |
| Posted on March 1, 2020 at 8:00 AM | |
The Pout-Pout Fish
Written by Deborah Diesen
Illustrated by Dan Hanna
For my first post, I wanted to do a book that I truly love by an author that I am proud to call my friend. Not only do I love this book, but I adore Deb, we have done events together, I ask her for advice, she is a Michigan author like me so seeing her success is truly a huge inspiration for me. Fun fact, I also have this book memorized because I read it so much with the kids in my classroom. That being said, let's get into the book!
The Pout-Pout Fish follows Mr. Fish who because of his pouty face is always gloomy, frowny, mopey, and sulky. His friends attempt to give him words of advice in order to improve his mood, but he knows how his face looks and he knows what that must mean for his personality. The rhyme scheme used in this book makes it easy for families to read, and for kids to enjoy. Kids start to remember the book and the number of kids I've read the book out loud say with me "Blub, bluuub, bluuuuub" is the moment you really know how great this book is. Hanna's illustrations in this book are also great. They fit this book (and series) so well that I couldn't imagine seeing Mr. Fish in any other way but with his big grimace frown on the cover. I'm not going to give away the ending, because you should totally check out the book if you haven't, you can find it literally anywhere, even Scholastic book faires! Give this book a read with your kids, students, or more and watch them fall in love with it.
Check out this book as soon as you get the chance!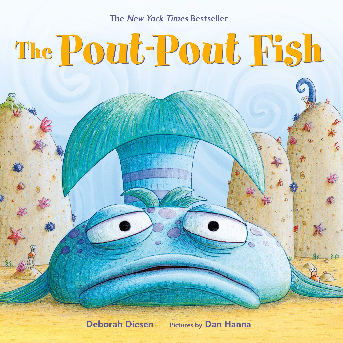 Categories: None